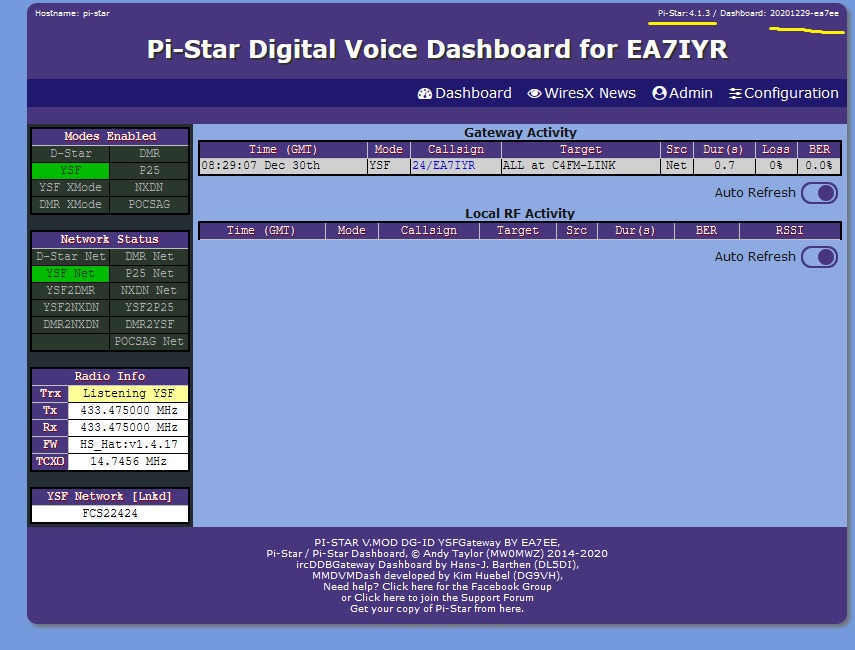 We have two versions of pi-star EA7EE
Initial version, this version is the initial one after downloading it we have to give the update several times to update the image = Pi-Star:4.1.2 DOWNLOAD: EA7EE 2.0
New version, this version has all the updates until 12.30.2020 = Pi-Star 4.1.3:
Changes:
Version 20201229-ea7ee:
Update to YSFG-EA 4.1.2 to 4.1.3
Disable SAMBA
Disable unattended-upgrades
Disable agetty on tty1
Randomise Daly Cron on boot
Update HTTP and SSH avahi services
Fix ssh fullscreen
Fix pistar-upgrades
Article in English:
-> Easy pairing with DMR and other modes (00001 local parrot, 00002 YSF, 00003 FCS, 00004 DMR, 00005 NXDN, 00006 P25)
-> Easy reflector change in all modes, just type the reflector number and voila -> List of independent reflectors by mode (pressing the ALL key on the transceiver)
-> * Allows to record AMBE files to use as beacon *
-> Allows the generation of voice beacons with programmable periodicity. The beacon will remain silent when there is activity.
-> Allows you to return to the original reflector after a programmable time in any mode. (option) -> Allows you to stay in the original reflector forever. (Choice)
-> In DMR, add two seconds of silence if the transmission takes less than two seconds to avoid bans on the Brandmeister network.
-> Add extended configuration on pi-star board.
-> Added the number of active users in each TG for the Brandmeister network.